Voiceover Recording Studio
We are a friendly team based in Southampton, and have the technical expertise and experience to provide clients with a comprehensive and professional service for recording and editing broadcast quality voiceovers.
Experience and Expertise
We work with production companies, media agencies and independent creatives to help them edit, design and finalise their audio. We pride ourselves on delivering creative, quality sound to our clients through our professional services, which include:
Voice Over Recording / Foreign Translations / Podcasts / Webinars / Presentations and more...
Audio Dubbing / Sound Editing and Mixing for TV & Film
Live Streaming
Sound Design / Audio Branding
Voice-over artists of varying languages and styles
File /format conversion
Remote client / producer attendance
Connect with voiceover artist via Source Connect (standard), Zoom, Microsoft Teams, etc.
Broadcast-ready voiceovers are delivered for radio and TV commercials, films, documentaries, TV-series, audio books, animations, webinars and podcasts, etc.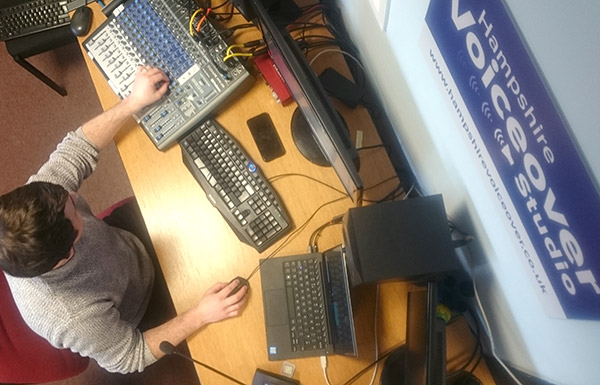 COVID-19 & Business Continuity
We are continuing to take advice from the government on working safely.  Remote client attendance is available for recording sessions and we request that you only bring people vital to the recording to your session.  Please contact us for further information about this.

Hampshire Voiceover Studio is part of Hampshire Studios, with greenscreen studio,
web-streaming and webinars services, website design, PA services and more...